Scope:
The scope of the France-Japan Workshop 2017 on Functional Nanomaterials and Soft Materials is to bring together scientists from Japan, France, and other countries, in the fields of nano-materials and soft materials for exchange and discussion of the related topics . This workshop will cover the topics on inorganic nanomaterials (layered materials, nanosheets, colloids, porous materials ...), synthetic polymers, biomaterials (DNA, tubulin, … ), liquid crystals, ionic liquids, and related techniques such as small-angle scattering.
Date:
July 24,2017
Venue:
Laboratoire de Physique des Solides, Université de Paris-Sud, France
Download the flyer PDF (click the thumbnail below):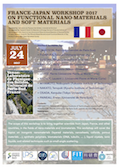 Invited lectures by:
DAVIDSON, Patrick (Université de Paris-Sud)

FUJIMURA, Takuya (Shimane University)
"Controll of Sequential Photochemical Reaction in Assembled Molecules on Clay Nano-sheet utilizing Organic Cavitand"


INOUE, Daisuke (CEA Grenoble)
"Regulation of microtubules nucleation and growth by co-localized actin network"


KAKUGO, Akira (Hokkaido University)
"Biomolecular motor based microrobot programmed by DNA processor"

KAKUGO, Masahiro (Nihon University)

LEVITZ, Pierre (Université Pierre et Marie Curie)
"Small angle scattering of polydisperse colloidal suspensions and clay aggregates: around the q-3 dilemma..."

MARUOKA, Hirokazu (Tokyo University of Agriculture and Technology)
"Analysis of stretched exponential processes using Shannon entropy: an application to the relaxation processes of multilamellar vesicles in various shear flows"


MICHOT, Laurent J. (Université Pierre et Marie Curie)

MIYAMOTO, Nobuyoshi (Fukuoka Institute of Technology)
"Liquid crystalline inorganic nanosheets for anisotropic gel materials"

NAKATO, Teruyuki (Kyushu Institute of Technology)
"Hierarchical organization of liquid crystalline oxide nanosheets"

OSADA, Kensuke (Tokyo University)
"Control of pDNA folding by block copolymers and application as gene delivery system"

SMALYUKH, Ivan (University of Colorado Boulder)
"Polar and nonpolar biaxial phases in colloidal dispersions"

Short lectures by:
ANRAKU, Shinya (Fukuoka Institute of Technology)
"Synthesis of ssDNA-modified hexaniobate nanosheets"

KATO, Riki (Fukuoka Institute of Technology)
"Liquid crystal phases formed in the mixture of nanosheets and microtubules "


SUEYOSHI, Keiichiro (Fukuoka Institute of Technology)
"Structural color of the inorganic nanosheet/polymer composite gel"

Contacts:
•MIYAMOTO, Nobuyoshi (Fukuoka Institute of Technology); miyamoto@fit.ac.jp
•DAVIDSON, Patrick (Université de Paris-Sud); patrick.davidson@u-psud.fr