Scope:
The scope of this workshop is to bring together scientists from Japan, France, and other countries, in the fields of nano-materials and soft materials. This workshop will cover the topics on inorganic nanomaterials (layered materials, nanosheets, colloids, porous materials ...), synthetic polymers, liquid crystals, and related techniques such as small-angle scattering and electron microscopy.
Date:
November 11-13,2018
Venue:
Laboratoire de Physique des Solides, Université de Paris-Sud, France
Download the flyer PDF (click the thumbnail below):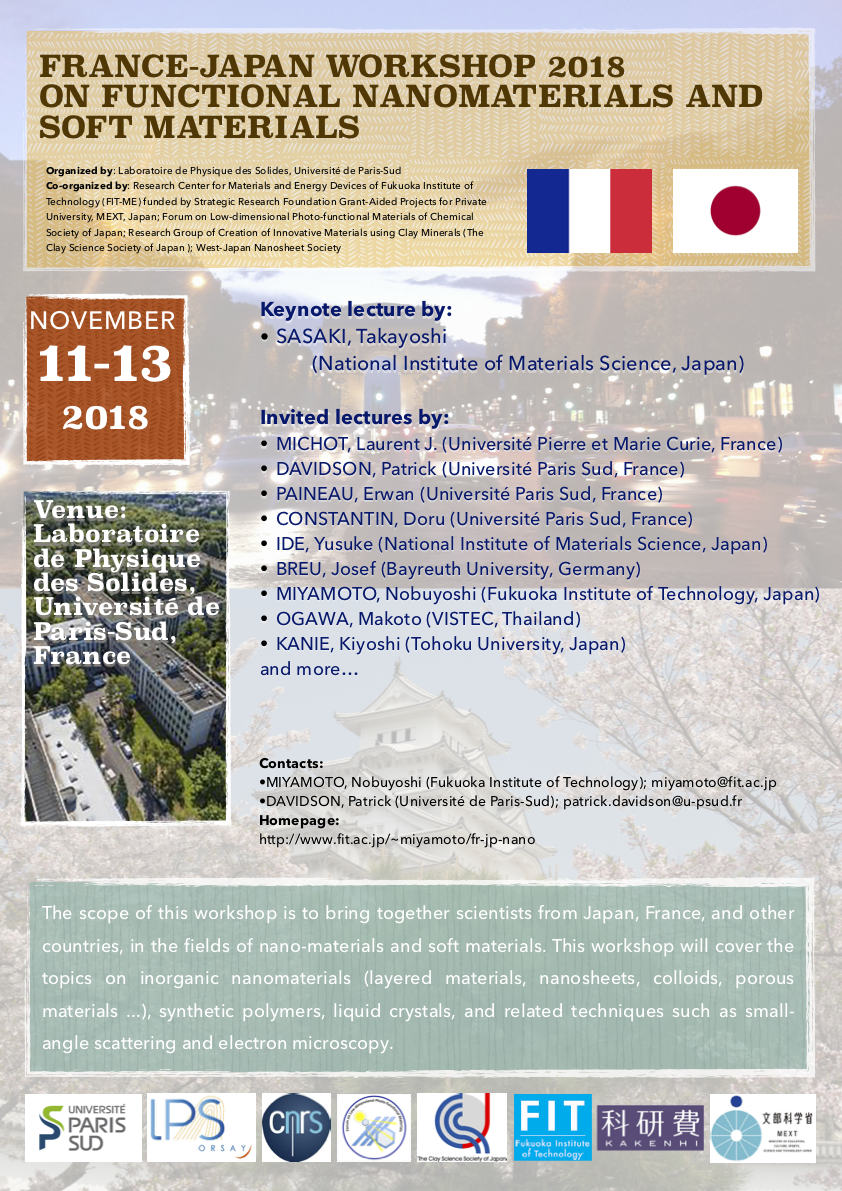 Keynote lecture by:
• SASAKI, Takayoshi(National Institute of Materials Science, Japan)
"Construction of Nano- to Mesostructures from 2D Oxide and Hydroxide Nanosheets"

• PENICAUD, Alain (CRPP Bordeaux, France)
"Exfoliation of Graphite and Carbon Nanotubes : toward Functional Materials"
Invited lectures by:
• MICHOT, Laurent J. (Université Pierre et Marie Curie, France)
"Adsorption of nucleotides onto clay minerals: Implications for origin of life"

• DAVIDSON, Patrick (Université Paris Sud, France)
"Ferromagnetic Co nanorod / liquid-crystalline polymer nanocomposites"

• PAINEAU, Erwan (Université Paris Sud, France)
"Self-organization of imogolite nanotubes: recent advances and future trends"

• MATHIEU Kociak (Université Paris Sud, France)
"Nanooptics with fast electrons"

• CONSTANTIN, Doru (Université Paris Sud, France)
"Phase transition in a colloidal membrane: where is the hexatic phase?"

• ABECASSIS, Benjamin (ENS de Lyon, France)
"CdSe Nanoplatelets: stack and twist"


• IDE, Yusuke (National Institute of Materials Science, Japan)
"Frontiers in Material Design of Layered Alkali Silicates"

• BREU, Josef (Bayreuth University, Germany)
"What is Osmotic Swelling"

• MIYAMOTO, Nobuyoshi (Fukuoka Institute of Technology, Japan)
"Anisotropic Materials of Liquid Crystalline Nanosheet/Polymer Composites"

• OGAWA, Makoto (VISTEC, Thailand)
"Surface Modification of Functional Particles by Silica and Titania Coating"

• KANIE, Kiyoshi (Tohoku University, Japan)
"Size- and Shape-controlled Liquid Phase Synthesis of Inorganic Nanoparticles and Application to Organic-inorganic Hybrid Liquid-crystalline Materials"

and more...

Tentative time table (last updated on Oct 31):
November 11, 2018

20h00

Welcome reception
November 12, 2018

10h30

Opening remarks
10h40
Keynote by T. Sasaki
11h40
Lunch
12h40
Session 1
15h20
Coffee Break
15h40
Session 2
20h00
Banquet
November 13, 2018
9h30
Keynote by A. Penicaud
9h30
Session 3
11h50
Lunch
12h50
Session 4
14h30
Closing remarks
Contacts:
•MIYAMOTO, Nobuyoshi (Fukuoka Institute of Technology); miyamoto@fit.ac.jp
•DAVIDSON, Patrick (Université de Paris-Sud); patrick.davidson@u-psud.fr